To edit your scheduling settings:
Click on Setup (in the top right corner)
Then click on Scheduling settings in the menu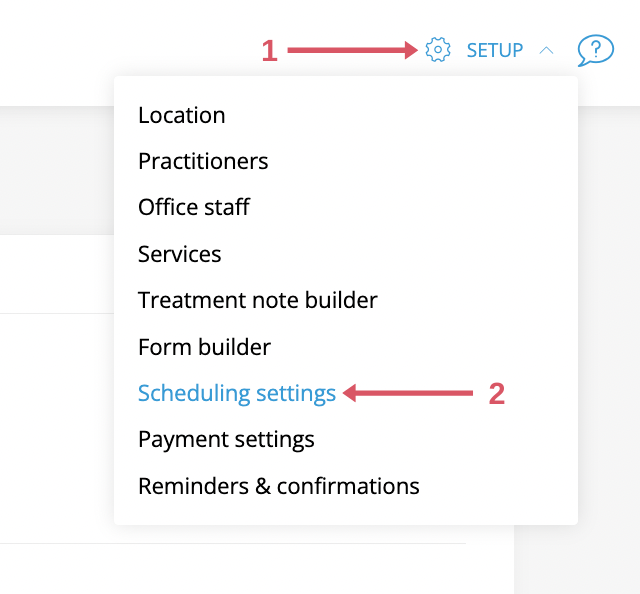 Online Scheduling
Allow clients to book online? – Online scheduling will give your clients the ability to book an appointment with you online through your business website or from your ClinicSense profile page. This is an optional setting. Select "No" if you don't want clients to book online.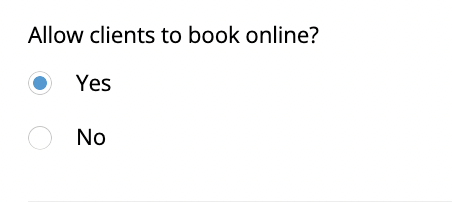 Where would you like to enable online scheduling?- There are two methods to add a book appointment button for your clients to schedule an appointment with you online. You can add the button to your business website or add the button to your Facebook and Instagram business page.

Show time slots in – Choose what time slots you'd like to display to the client when they are booking online.



Would you like to display a message to clients before they can book online? - This notice will be the first thing a client sees when they click your Book Appointment button. You can include more information about their appointment, such as a cancellation policies, refund policies, directions to your office, or parking instructions.

Scheduling Rules
When an existing client books online – Choose if you'd like the appointment to be automatically added to your calendar (which is the most popular option), or if you'd first like to review the request before accepting. If you choose to first review the appointment request, the client will be told their appointment request is pending and will receive a follow-up email once you've accepted the request. If you don't accept the request, you will be provided with an opportunity to send the client a message.
When a new client books online – You can have separate settings for new clients. You can also choose to not allow new clients to book online if you are not taking on new clients.

Clients can cancel/reschedule up to – Choose your cancellation policy. If a clients tries to cancel/reschedule after your cut-off time has passed, they will not be allowed to cancel/reschedule online and will be prompted to call your office.



Clients can book up to – Choose how much time in the future your clients can book up to. For example, you may want to allow your clients to book up to 3, 6, or 12 months in the future.
Clients can book an appointment up to – Choose how much lead time you need on a new appointment booking. For example, you may want to have at least 2 hours notice so if a client books an available 9am appointment, you have enough time to get into the office if you weren't planning on going in until later.



No-show guard™
What is No-show guard™? - You can protect yourself against no-shows by requiring clients to enter a credit card number (or even prepay for their appointments) when they book online. To turn on this feature, you will need to connect a Square account and then go to Payment settings.