As long as your settings indicate that you would like us to email the intake form to the client, we do this for you automatically - so you don't have to do anything to send the form.
Within your Form Builder, you have the following option for how often each form should be updated by the client: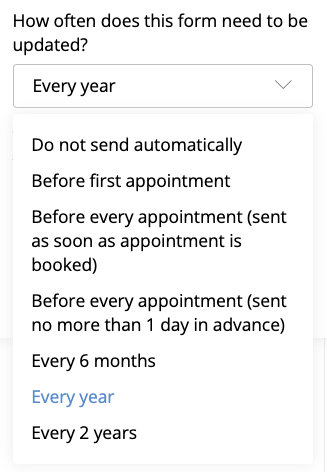 Do not send automatically
Before first appointment
Before every appointment - sent as soon as appointment is booked (e.g. Reason For Visit)
Before every appointment - sent no more than 1 day in advance (e.g. Covid Screening)
Every 6 months, every year, or every 2 years (e.g. Contact Form)
You will also indicate which service requires that form to be completed: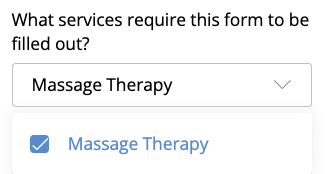 Forms are sent automatically
When a client books an appointment, ClinicSense will first determine which forms need to be completed based on the service that was booked
If it's a new client that is booking, ClinicSense will email them the relevant forms for that service
If it's an existing client that is booking, ClinicSense will only send them forms if they have never submitted those forms in the past or they are due to update the for
How forms are sent

A link to complete the forms will be included in the confirmation and reminder emails
The client simply clicks a button that says Fill Out Form and the form will open up in their web browser to complete and submit.
The completed intake form is automatically uploaded to their client file within ClinicSense.